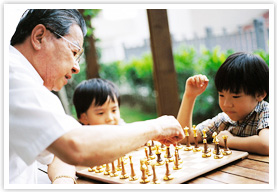 The objective of the Foundation is to move forward the Chinese culture by promoting a harmonious society, and to create a lifestyle based on righteousness, truthfulness, and beauty.
Our foundation was founded in the 1980s with the original name of "Hefeng Cultural and Educational Foundation," which focused on the promotion of 'Cooperative Culture' and 'Management Culture'. We have subsidized the publication of nearly one hundred kinds of books, which represented our contribution to the building of cooperative management culture in Taiwan.
The foundation was later renamed as the "New Civilization Foundation of Culture and Education", and under this name we have organized and co-hosted various cultural exchange activities between both sides of the Taiwan Straits. These included the "Concert of Classic Music in 21st Century in Chinese Society", "Calligraphy Exhibition of Master Hong-Yi", and many more large scale exhibitions and activities that generated great public sensations. Furthermore, we have also endeavored to contribute to the interaction between both sides of the Taiwan Straits by taking part in several relief actions for people in stricken areas, and helping to build schools for children.
In order to facilitate efficient Government administration, the Ministry of Education and the newly established Ministry of Culture have requested all foundations named with 'education and culture' to choose from only one category. Consequently, our foundation adopted the new name of 'Chinese Civilization Education Foundation', and the Ministry of Education now acts as our supervisor.
Our foundation has long supported the construction of school buildings for elementary and junior high schools all over Mainland China, while the recent focus has been placed on the improvement plans for the elementary schools in remote districts in the Huang Shan area. The Chairman of our foundation was also the honorary member of the ¡§Charity Construction Plan" in the ¡§China Charity Committee¡¨. The Chairman has assisted the committee by setting up connections with Taiwan¡¦s ¡§Tzu Chi Foundation" to initiate and conduct the construction of water storages in northern China, which is an on-going project.
The foundation has also assisted the committee by formulating education plans for children with imprisoned parents in north-eastern China so as to prevent discrimination against these children. In fact, the main contributor, Mrs. Wu Ke-Liang (wife of Minister Yan Ming-Fu) had fallen ill from overwork on the project and is yet to return to good health. The Chairman of our foundation especially set up two elementary schools in her name to honour her outstanding contribution.
The foundation is currently cooperating with the National Art University to organize an international seminar on Buddhism in Taiwan, which aims to protect and promote orthodox teaching and to eradicate cult heresies and their wrongful use of the name Buddhism. We are also working with the Far Eastern Culture Centre to safeguard Indian Buddhist monuments.